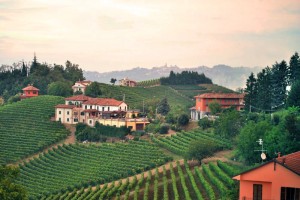 In the land of Barolo, in Serralunga d'Alba, under the shade of the castle there are the most important vineyards of the world. Also the vineyards of family Porro stand in this area – "Lazairasco", "Santa Caterina" and "'l Pari" – in the "cru Lazzarito", an eviable position. Exposed to south-west and south-east, the vineyards lay in the best sun of langa and produce Nebbiolo, Dolcetto and Barbera.
But many times being kissed by good luck and good sun is not enaugh to produce a wine of great quality. It's also necessary a strong effort, a meticulous work between the lines and a loving care of every vine and its soil. This proofs that the quality we find in the bottle is already born in the vineyard, before the grapes are transformed in the quiet atmosphere of the cellar.
A solid family tradition, a lot of hard work and even more passion, a strong capability acquired as a kid among lines and barrels: this scored the life of Guido Porro, like the one of his father Giovanni, of his grandfather Guido and his grandfather's father before him.
A visit of Guido's cellar is a real pleasure: the cellar has just been renewed and is build on top of Guido's vineyards, from where you will enjoy a great view both on the vinous hills of Langa and on the snowy alps. Let the content of your glass tell you its story, feel its scents, taste it quietly… you will certainly come back.
Some indications about us
Owner: Guido Porro.
Oenologist: Guido Porro.
Hectares: 6 (15,8 piedmontese giornate).
Cru: Lazzarito.
Vines: Lazairasco, Santa Caterina, 'l Pari.
Exposition: south-west, south, south-east.
Yearly production: 25.000 bottles.
Direct visits and selling: on working days form 8:00am to 8:00pm, previous booking.